You can tell a lot from a person with the equipment he takes with him, and how it packs it up, so on request, I thought it may be a good time to go through what kind of things I would take to an interview with a focus on the audio component of it.
Portability is a big thing to me, as I often prefer to be able to take everything with me on foot. This limits me in a few ways. I do not have the ability to use powerful lighting or other high performance gear, because I cannot assume I will be able to work in a powered setting. The advantage it brings though is a lot of components can work on battery power, and I can get into very remote or constrained areas. Used properly the location can give your interviewee a more of a relaxed tone and help in a setup where you may not have assistance with you.
First off, the backpack:

My photo does not do it justice, but the product photography on their page does. It's called a Speck Aftpack.
Read on below the fold to see what madness lies inside!
As normal as it looks, the build quality of this bag is amazing. You can really feel the thought put into this case with it's nice features. To briefly go over a few, the back of the bag has a zip, to access a extremely heavily padded compartment dedicated to it. There has been many times when I've needed to access just the laptop part, for either doing emails or uploading photos, and this has been a great convenience.
This means that no matter how messy the rest of the bag is, your laptop is always going to be easily grabbable.
Another workflow this enabled was for packup time. If I'm at a venue and I've done all I need to do there, I can begin packing up, by going off power and putting camera and audio equipment in the bag after copying their contents on to the laptop. With that done, I can be ready to go minus the laptop, with it being ready to slide back in. I'm also always paranoid about leaving things behind, so while waiting for transfers or uploads to finish, this gives me time to resort and double check I have actually packed everything else. It's like mental multitasking, but it actually works!
The next part this bag does well is pockets. It does not go overboard with pockets, it gives you just the right amount. Almost every kind of pocket is included in there, with differing types of padding. The frontmost area is easily accessable for small objects, while the flap for the bag when opened gives access to other compartments. You even have a mesh area on the side which expands to fit a water bottle there. This is an excellent thing for when you are walking a decent distance for interviewing a subject.
The last part for this backpack is the straps. I tend to overpack and weigh myself down with this bag, so the oversized, extra wide straps give extra padding so it does not cut into me. They also have a unzippable gadget that can lock the two straps together for extra rigidness. It doesn't sound like much, but this feature can let me run for reasonable distances without worrying it's going to easily fall off.
With the bag covered, lets get into the gadgets!

What's in my bag
For an itemized and labelled list, check the original post on flicker here
From top left row by row though, I'll list the items.
White Portable battery charger
handy for charging phone without power available.
XM 2000 Dynamic Microphone in padded case
I would maybe get the Shure SM57 reading reviews now, however this mic has served me very well. XLR pinout.
10 Metre XLR to 1/4″ Connection
Plugs the microphone into various things. Long length because I want to be able to cable manage it and hide from camera shots.
Speck Aftpack
Microphone flag
The plastic thing with a hole in it. Use these to give yourself free branding.
Small 3.5mm to 3.5mm cable
Easy method to connect the H4n to the video.
DIY 4 Input to 1 output.
Cheap way of mixing multiple sources together.
Headphones in circular storage case
Black multiple types memory card reader
Notebook with pen
Spare AA Batteries (rechargeable)
iGo Stowaway keyboard.
Arguably the finest built bluetooth keyboard ever made.
Flexible leg tripod
Able to grip onto nonflat and other surfaces like a pole for untraditional shots
Large assortment of cables, hand picked then bagged up, in a plastic box.
Zoom H4n recorder/mixer/monitor with clear plastic case
The heart of this setup.
Kodak Zi8 Pocket camcorder, with magnetic lenses
Green iPod third generation nano (go the older sizes!)
Netbook (Asus 1005HAP)
iPad
It's a bit daunting to see the dot points and how much that goes into the bag!
Major components
The major parts of the kit I will go into why they made the cut and are well worth considering.
Zoom H4n
I have detailed this in another post I have done earlier, but to recap this  device makes interviews much easier. You get the ability to monitor your audio at anytime. You get the ability to turn to use (or not) auto level gain adjustment. You can plug in a variety of equipment of all kinds. Non powered and powered mics? sure. Computer audio? easy. Guitars? yep. It lets you focus on more important parts of your stuff like well, doing interviews.
You can mix all of the possible inputs together for a battery powered 4 Channel mixer of doom. Bam, there is a large power hungry part of your kit gone already.
Memory card can be used anywhere and is good to go. No buggering around with weird formats. Speaking of the formats, you can do MP3 or WAV fine. Bam, all your formats for audio covered.
Kodak Zi8 Pocket camcorder
A pocket camcorder, Kodak seemed to never make a better camcorder than this one. It has a lot of features much more cameras have not bothered with – Stereo audio input, Small size and decent battery life along with good codec support.
Codec support is good with MP4. Bitrate leaves something to be desired but is still above most phone cameras. The format is easily able to be thrown without transcoding into many video editors. I'm aware it's not lossless, but you run with what you have. As it  is, you have a format that can either be uploaded directly to youtube for a turn around time that will make the Road runner blush, or edit it together for a a branded clip with titles quickly to make your sponsors happy.
The sensor size of this camcorder is also great – 1/2.4″. The closer to an inch (I hate using that measurement format) in pocket sized recorders, the better quality is possible especially for low light. Of course, a DSLR will often have a full frame sensor a multiple larger, but then you have a separate set of issues to deal with.
With the small format, you can get cheap and easy additions to change the look of your recording. Not instagram, but for real! I use these to get a macro photo for closeups if I need it (rarely), or bettter is a wide angle shot to get the venue in.
Audio monitoring is shown on the Zi8 which is a nice touch.
It has a tripod mount, some don't. Never take features for granted on a video camera.
Phone cameras (at the time of writing, a Samsung Galaxy S 3 and iPhone 4S won't make the cut) will one day get good enough to replace this. But small home cameras won't – the most common thing for a cheap camera is to forget the darn audio input!
The sum of all parts
The strength with this kind of kit isn't with the individual parts as much as it is with how well they go together. Some parts due to their low cost will often cut corners, which is where another part may come to the rescue in order to compliment it.
The Zi8 with it's audio input lets me do a direct recording ignoring the average internal microphone. The fact that this is then plugged into the Zoom H4n means that I have a live mixing deck, with Microphone quality being right up close to the subject will sound a world better than being a few meteres away (recording crowd noise as well!).
The lens attachments are easy enough to use to have the wide angle on at the start to get a opening shot. Then pause, lens off, and resume shooting. I can trim it out or go with it as is.
Bluetooth keyboard can work with either the iPad or the phone, giving me an effective way to quickly type up a decent amount of words with a post.
The flexible leg tripod cannot hold much weight – so the pocket camcorder of the Zi8 is suited to this well.
The iPad works well as a remote interface as well as in a two person setup – get the interviewer an iPad while you sit at base with the netbook – you can relay progress between each other including questions effortlessly without interupting the actual interview. It also can entertain the interviewee while you are setting up with games.
The iPod nano gives the choice of using your royalty free background music during openings, with the advantage that the scroll wheel gives you a ghetto way of fading the audio out at your given speed. Pair that up with the H4n and your microphone can be above the background, recorded live into your footage from the Zi8. Best of all if the audio sucks, you can pull the original clean source audio from the multichannel recording of the H4n.
Again, it's how you plan out the workflow which is what matters. Plan for something to fail, then you can work around it much more nicely.
Horror stories
With experience, comes horror stories, or things that can go wrong, will. This probably could be another post by itself.
Horror stories with recording in the past include trying to record the audio from a phone placed in between us. This worked at home in a quiet setting perfect, and I even had an option to record directly to mp3. That's perfect, I can upload that straight from the field without editing I thought…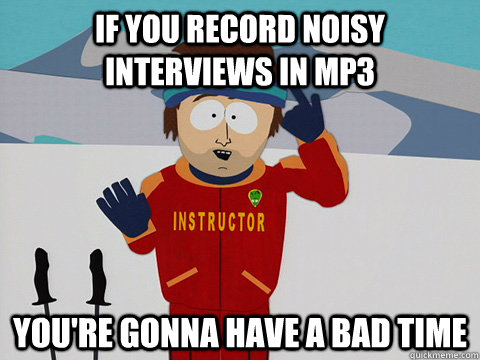 When I tried it, firstly the most obvious thing happened – the phone constantly crashed. When loading the program, and then again during recording. You could imagine the stress of something crashing during recording would introduce to you as a interviewer. To the person I was interviewing at the time, I would have looked like I was about to grab his booth equipment and run as my eyes keep glancing down to check my phone if it was still recording and giving me any audio levels.
Batteries? Oh dear. I have had close calls with all day recordings sapping all of my battery on the Zoom H4n mic. Spares have saved me so I'm glad there is nothing to report there. Digital Cameras too will tend to be sapped quickly, so I take their associated chargers with me too.
Tripping on the phase power before an event? I don't advise that. Luckily fuses saved me being very red faced. Also, don't let a wireless mic run out of battery during recording. You do not want to hear the crowds eardrums pop from the static of it bursting through the stage speakers. Nope.
Currently, I need to take much more with me as my focus is in multiple areas including streaming and video, however the backpack is still going along with me with not much of an alteration. Some extras now just mean I take more bags with me; Things like a DSLR style camera will not fit in due to its separate packaging, so that gets slung on a spare shoulder. Then comes the need for more laptops, so I may take a minimalist sling style bag with me as well.
With luck this may inspire you to post up your own writeup about what is in your kit – I feel that it's  a good learning experience for anyone reading and in the field.